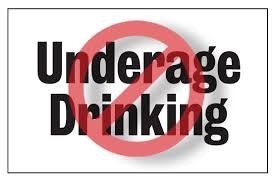 Sheriff Mike Robinson announced the results of the concluded its initiative to prevent minors from consuming alcohol. A grant by NDOT's Highway Traffic Safety Office will allowed your Sheriff's Department to place extra deputies on duty with the goal of preventing underage drinking, adults procuring alcohol for minors and young people driving while under the influence of alcohol.
During the special prevention activity Deputies cited 15 persons under the age of 21 for being a minor in possession of alcohol. These all arose from special patrols and traffic stops. During one of the traffic stops a person was arrested for a Zero Tolerance violation. During the Washington County Fair, Deputies spent extra time walking through the fair on the lookout for alcohol violations. A 19 year old was arrested for for giving false information and charged with Minor in Possession of Alcohol. In a separate incident a 20 year old was arrested for Contributing to a Minor when deputies observed him furnish alcohol to another person under the age of 21. This person was also charged with Possession of a fake ID and Minor in Possession of Alcohol.
In the years of 2018-2020, Washington County had an average of 15 drivers holding a "youth" driver's license involved in an injury motor vehicle accident. Four of those accidents involved alcohol. According to MADD about 5.6% of 16- and 17-year old's and 15.1% of 18–20-year old's reported driving under the influence of alcohol in the past year. And 33% of the drivers ages 15-20 who were killed in crashes had a BAC of .01 or higher and 28% had a BAC of .08 or higher. As recently as a couple of months ago, Your Sheriff's Office investigated a fatal traffic accident involving an 18 year old that had just graduated high school. The dedicated deputies of the Sheriff's Department will continue to be on the look-out for impaired drivers, especially underage drivers.