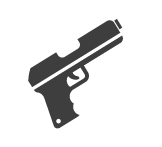 We no longer accept handgun permit applications online or by mail. If you wish to complete a handgun permit application, please come in person to the Washington County Sheriff's Office.
An applicant for a gun permit applying in Washington County must be a resident of the county and have a valid Nebraska photo ID or driver's license. If you live in the city limits of Blair, you will be required to obtain the permit through the Blair Police Department. Persons who are a holder of a valid permit under the Concealed Handgun Permit Act are not required to have a gun permit.
The applicant must be at least 21 years of age and have no felony convictions, a criminal history check will be conducted when the application is made. Providing fraudulent information on an application for a permit is a felony offense.
Applications for gun permits may be made at the Sheriff's Office Monday through Friday, 8:00 AM to 4:30 PM, excluding legal holidays.
Permits are $5.00 and are good for 3 years.
Visit the Nebraska State Patrol website for detailed information about Concealed Handgun Permits.
If you have questions, or if we can be of service, contact us