The FIRST first responders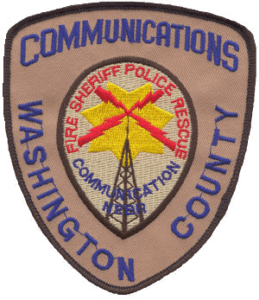 When our dispatchers answer the call in your time of need, it is important to know that they are highly trained and able to handle any emergency that you are experiencing. Our personnel are certified in Emergency Medical Dispatch (EMD)  and Cardiopulmonary Resuscitation (CPR) to assist you with pre-arrival instructions of life-saving techniques before EMS arrives. They have helped save lives when precious minutes count. One of our dispatchers was credited some years ago with helping save the life of a woman in our county who was injured in a lawn mower accident. She was bleeding severely and crawled to her house, where she called 911. Our dispatcher kept her on the phone and gave her directions on how to apply direct pressure to the wound to control the bleeding before EMS arrived. She is alive and well to this day, in part due to the actions of our dispatcher.
Highly Trained
Our dispatchers go through a rigorous on-the-job training process. During the time they are being trained, they are paired with an experienced dispatcher to assist them with the learning process. They spend one week at the Nebraska Law Enforcement Training Center in Grand Island where they are certified in EMD and National Crime Information Center (NCIC) protocols. They are trained to enter and retrieve information in the NCIC database to include arrest warrants from the courts, protection orders, lost or missing persons, and stolen property. These certifications, including CPR, are renewed every two years through both classroom testing and on-line coursework. They are also trained in the National Incident Management System (NIMS 100-200, 700-800) via on-line courses.
Two of our dispatchers are certified members of the Nebraska Tactical Emergency Response Team (NE -TERT). These dispatchers are trained to respond, both locally and regionally, to disaster or critical incident situations where they handle communications duties. Another dispatcher is certified in Tactical Dispatching to assist the Sheriff's Office Tactical Team when they are called out to duty.
With our training and experience, and our passion for customer service, it is our mission to provide safe and accurate communications services to our public safety responders, and to the citizens of Washington County.