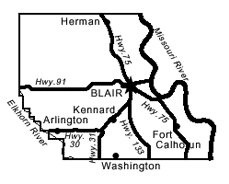 Washington County Sheriff's Office is proud to serve Washington County, Nebraska and the communities that reside within our jurisdiction.
Visit the Official Website for Washington County, Nebraska
Washington County is located in eastern Nebraska on the Missouri River.  It was explored as early as 1739 by Paul and Pierre Malleet, who were on a trapping expedition to Canada.  In 1804, Lewis and Clark reported the establishment of the new United States government to a council of Indian chiefs near the present site of Fort Calhoun.  As a result of this Council, Fort Atkinson was established in 1819 and served as a key midwestern outpost until its abandonment in 1827.
The first permanent settlement in Washington County was made in 1854.  In that same year, the county was organized as one of the eight original counties proclaimed by acting Governor Thomas B. Cuming.  The county seat has been located in three different towns: Fort Calhoun, DeSoto, and finally at Blair, its present site since 1869.
Other Links
For more information on Washington County, please visit the following websites: