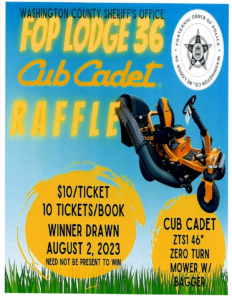 It's that magical time of year! SUUMMMMER! Which means it's time for a raffle! This year we're raffling off a Cub Cadet zero turn 46" mower with bagger (valued at over $5500)! Tickets are $10/each! Winner will be drawn August 2!
To get your tickets hit up your fav FOP member, stop by the Sheriff's Office during business hours or leave us a message on FB and we'll make arrangements with you!
Proceeds from the raffle support local scholarships, community foundations, shop with a sheriff and other great activities.
Thank you for supporting us and helping us support our communities!